Press Coverage
The Sunday Times UK
March 28, 2021

New Yorkers Sweep Away Bad Vibes at Home with a Spiritual Spring Clean
A spiritual spring clean is increasingly popular

by Laura Pullman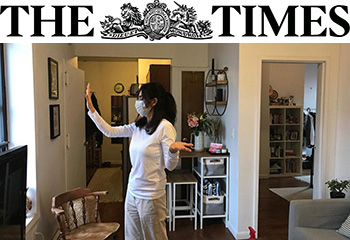 As a spiritual guru chants in my bathroom and sprays holy water into the lavatory, I awkwardly loiter in the hallway. In small apartments with no attics or basements "nonphysical beings" can often lurk in the bathrooms, warns Sondra Shaye.
I am witnessing a so-called space clearing in which Shaye removes all the negative vibes from my flat before channelling in a "divine, blessed, sacred energy".
After a year of being largely trapped indoors by the pandemic, hiring a healer to give your home a spiritual spring clean is increasingly popular, according to my bohemian friends and wealthy acquaintances in New York.
The couple who shelled out $51 million to buy the paedophile billionaire Jeffrey Epstein's Manhattan mansion have ordered "a full makeover – physically and spiritually", reported the New York Times last week.
I first came across the concept of space clearing in New Yorkers, a new book by Craig Taylor which is a collection of oral histories gathered from the city's residents, including Shaye.
Interest piqued, I was keen to try it myself. Shaye, a fiftysomething former lawyer, arrived at my shoebox flat in Williamsburg, Brooklyn, last Thursday. Before the appointment, I had frantically done the washing up, tidied and taken out the bins, conscious that my current energy was somewhat slobby.
After giving the flat a once over, Shaye determined that the energy was not dire but could definitely be improved and suggested using her spiritual powers to make the ceilings feel higher so the 700 sq ft space appeared bigger.
Carrying out about three space clearings a week, Shaye counts artists, Wall Street financiers and celebrities ("I can't name them") as clients. People often turn to her when they have moved into a new home, endured a divorce, or if a previous tenant died in the building. Estate agents call her in when they are struggling to shift a property.
She recounted how one apartment which had been on the market for seven years sold 15 minutes after she performed a space clearing. In that instance, the estate agent had felt nauseous because the energy vibrations had changed so rapidly. I am prone to motion sickness but Shaye reassures me that it is rare for people to get queasy.
The 90-minute session was wonderfully bizarre. Shaye filled a pink spray bottle with water from my kitchen tap before praying over it and infusing it with "positive energy" to turn it into holy water.
Next, she slowly moved from room to room quietly chanting, reciting, humming and panting. Nothing went unsprayed: the microwave, fridge, television, boiler and broom closet all were sprinkled with the holy water. "I just really want to do it as thoroughly as possible because I take my responsibility for what I'm here to do seriously," she said, spritzing inside the oven. All the clothes closets got attention: "I like to sprinkle the holy water on shoes because they're obviously bringing in a lot of energy from outside."
Different healers use different methods. When Ellie, an art adviser, hired Per Erik Borja, a spiritual medium, to work on her newly purchased Brooklyn brownstone, he used a brass bell for the task.
"I wanted to honour the fact that there have been many people in the home before and I didn't want to come in and pile my energy on top of other stories," says Ellie, 32. "Psychologically, I felt after he did this clearing and blessing, that there was this cleaner air for me to build my own story."
Kate Lauter, 33, who owns a homeware shop and is a big advocate of space clearing, relies on "smudging", in which you burn tied bundles of dried herbs, such as sage and rosemary, to purify the energy of your home.
"Anytime I buy anything [second hand], I smudge it, I clear the energy, give it good vibes. Whenever I come and go from vacations, or just feel like a space is stale, I'll whip out a smudge sick and clear it," says Lauter, adding that she has seen a rise in sales of space-clearing dried herbs from her shop, Feng Sway. "Covid forced everybody to take a look inside which I am happy to see."
Unsurprisingly, professional psychic scrubbers do not come cheap. Shaye charges $700 (£500) to cleanse and bless an apartment of my size and the rate increases for bigger homes. However, for $250 (£180) she performs space clearing from afar – all she needs is the property's address and ideally some photographs.
"After the Bidens moved into the White House, I cleared it by distance because I thought that was an important thing to do," says Shaye solemnly. "I did that as a good gesture for the country."
The 40-room townhouse on Manhattan's Upper East Side where Epstein, a convicted sex offender, abused young women and hosted friends including Prince Andrew and the film director Woody Allen was recently bought by Michael Daffey, a former Goldman Sachs executive, and his wife.
The couple paid $37 million below the original asking price. "The first order of business is a complete makeover — physically and spiritually," said Stu Loeser, a spokesman for the family, refusing to confirm whether a healer was being employed alongside the interior designers. "It's still in the early planning stages."
Epstein's décor featured a taxidermied giraffe, a beach-themed dining room, a portrait of Bill Clinton wearing high-heels and a dress, and an entrance hallway lined with framed eyeballs, which were once made for injured soldiers and imported from England.
"If the new owners know anything about this work, and they understand or believe in energy at all, they absolutely need to have that house cleared," says Shaye, turning her focus to my bedroom.
I am not fond of this room but am not sure whether that is due to lingering bad energy or just my cheap furniture. With eyes closed and outstretched arms, Shaye making juddering movements as if she is performing modern dance.
I mention how I often hear my tempestuous neighbours having blazing rows or sex on the other side of the wall. Shaye promises to put extra protection in this section as well as a "healing vortex" over my bed.
"It's just to bring positive, high vibration energy into the room even more," she says. "The room didn't feel great, but it feels much better now."
After a final few walk-throughs waving a burning incense stick, my apartment is reportedly fully cleansed. "It's like a sacred space and now a there's a protection around it so it should stay this way for a while," says Shaye. "It's usually good to do about once a year."
Half the holy water is still left in the spray bottle; can I drink it? "It's good to drink holy water except not this holy water because this is from tap water," she says, before decanting the remainder for me to use later. "The plants love it."
As Shaye leaves, she remembers a crucial nugget of advice. "It's best to keep the loo seat down," she says, "otherwise the life-force energy of the apartment gets drained out."