Press Coverage
New York Magazine
January 24, 2005

In the Post 9/11 Healing Boom, Healers Like Sondra Shaye...

by Jeff Sharlet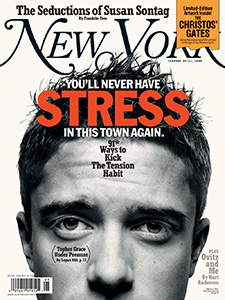 I first met Bhakti Sondra Shaye B.A., M.A., J.D., guide, teacher, and Adept member of the Great White Universal Brotherhood and Sisterhood of Light, ritual master in the High Council of Gor, universal Kabbalist, Reiki master, and metaphysician, at the New Life Expo at the Hotel New Yorker this past October [2005]. The gathering bills itself as "America's Largest Mind, Body, Spirit Expo," four floors of alternative spiritual options....
I spent a few hours inspecting spirit sticks, dodging feng shui-ers, and having various intangible parts of my aura balanced, stacked, and aligned. Bhakti Sondra Shaye was the least-assuming person in the room. Three middle-aged women who'd fit right in at a Betty Crocker bake-off-purveyors of "SoulTalk"TM - pointed her out. "She's the one you want to talk to," one of the women said, when I queried them about who was most attuned to New York and [spirit]. As she pointed out Sondra, she gave the anti-agers, crystal forkers, and aromatic transformers just the slightest eye roll. Sondra sat in a corner, wearing a purple tunic, and she wasn't hawking anything. If you asked, she'd give you, for free, a picture of her teacher, a ruggedly handsome Irishman named Derek O'Neill, who in turn would name the famed Indian guru Sai Baba as his master. But since I told her I was investigating spirituality in New York - she liked that word, investigating - she did me one better. She drew a "Prema Agni" on my back, and nearly made me fall down.
The Prema Agni is a cross with two legs, one of them serrated, a heart above the arms, and a triangle below. It was supposed to open my heart, "for love to flow IN and OUT...."
Sondra recalls she met her personal teacher, Derek O'Neill, at the 2001 New Life Expo. A friend of hers invited her to tag along. Sondra, already working as a successful healer, wasn't looking for new business. She thought then - and, truth be told, thinks now - that much of what's on offer at the expo is snake oil at best, "dark energy" at worst. But she didn't want her friend to sit at her booth alone, so off she went....
Then, Derek. A helmet of prematurely silver hair, ocean-blue eyes, a jaw like an anvil, a bemused half-smile.
He and his wife, Linda, came up to Sondra at her table. They'd been looking for Sai Baba. Although Bhagavan Sri Sathya Sai Baba, a jolly, ever-smiling Indian man with a giant Afro and a penchant for conjuring jewels, claims at least 10 million devotees, Sondra recalls that she alone brought his picture to the expo.
Sondra also remembers that ... she talked to Derek for what felt like only ten minutes, ordinary chat; but when she looked up, in mid-conversation, she realized two hours had passed....
At that moment, she says, she was opened to yet another new healing, of which she was the [first practitioner and teacher]. "Way more powerful" than her old routine, she says. "Way." Her friends, her Jewish mother who didn't really believe in any of this mishegoss, could all feel it sparking off her. Maybe I could, too.
The first time Sondra drew the Prema Agni on me - before I knew her well enough to respect her, if not necessarily share her beliefs - I felt a surge of vertigo, a spiral of twitches running down my spine. Weeks later, Sondra told me that when Derek draws the Prema Agni, people shudder, weep, and fall down - not unlike Christians who are "slain in the spirit," an experience known to strike even nonbelievers.
Derek is no mystic. Ex-Irish Army, ex-Catholic, working-class in spirit if no longer in income (he can earn $45,000 with a single workshop, although he gives it away [to charity]), he lives in Dublin like an ordinary guy, with an ordinary family. On the phone, he makes jokes, asks me about my background, talks about pop music. But he is "so evolved," Sondra says....
She's not that powerful, though actually, she will be soon. Things are happening in other dimensions. Channels are opening. It's no coincidence, her friends tell me, that I'm writing about Sondra. The power is growing. Someday soon, she'll join the metaphysical Derek O'Neill. Sai Baba, too, and Jesus, Krishna, Merlin, all the ascended masters, like a great big dinner party. Sondra doesn't normally drink, but when that happens, she'll raise a glass. It's going to be amazing....
Before I could interview Sondra further, I needed to be healed. "It will clear you," Sondra told me. Later, both she and Derek would declare that God, not New York Magazine, had sent me to be their gospel writer, but at the beginning, Sondra was wary. "I don't want to come off sounding crazy," she said. So she decided to let me experience the energy for myself. And I did, after a fashion.
Sondra began my healing with an "Emotional Cord Cutting." This entailed my standing very still while she swiped a foot-long blade up and down, very fast, inches from my body....
Once my emotional cords had been cut, I lay for two hours on a [massage] table in a cement-floor studio above the Park Slope Tea Lounge, which Sondra rents from a yoga center by the hour. She worked me over with a battery of energy services - the Rising Star, Divine Energy Healing, Etheric Surgery.... Occasionally, I heard the rustle of her silk jacket, a special garment she wears to perform healings. Once, a finger traced a hard line from my right shoulder to my collarbone, but Sondra later said she hadn't touched me anywhere but my knees and abdomen. I shivered through most of the session. Sondra later said it'd been so hot in the room she'd been sweating....
The next day, I got the flu. I was down like a sedated hippo for a week. Sondra called. She said it was a healing crisis. I was lucky, she said; a lot of people experience such crises emotionally, but it's quicker and easier to get the negative energy out through the body....
Practitioners such as Sondra found their client base expanded by the ranks of the marginally "spiritual" - real-estate agents who wanted properties "healed" of the "bad energy" lingering from those who fled the city, working-class stiffs who decided that in "a time of war" it's okay to be emotional about one's "inner pain," former fundamentalists who believe they can't live without some kind of spiritual practice, not anymore.
One of Sondra's clients is a former telecom exec named James Hatt. Hatt moved to New York from London in 1999, and fell in love: with an American woman, the city, its opportunities. He bought properties, he sold them, he prospered. But then he'd picked up a million-dollar co-op in which someone had gone insane. Once he listed it for sale, the apartment sat on the market for seven months. Finally, says Hatt, a fellow real-estate agent said, "Look, there's this woman you should try. A lot of agents use her. Nobody talks about it." "This woman" sounded like an arsonist. But what Sondra offered, says Hatt, was a "cleansing," a service she and other healers quietly supply for most, if not all, of the city's major brokerages. There's no directory for this kind of work, but Jennifer L. Dorfmann, a broker for Corcoran, told me that when she sent out a query to colleagues asking for recommendations, she received half a dozen names in a matter of minutes. Sondra provided me with a list of brokers she works with at other firms, but their employers forbid them from talking [to the press].
"An hour and a half," recalls Hatt. "She chants a mixture of incantations and prayers, from a variety of faiths and persuasions. Her whole technique is very silent, quiet, unto herself. Nothing for the audience, you know?"
Hatt sold the apartment two days later, and when he hired Sondra to cleanse a loft in Soho where the previous occupant had died, after it had sat unsold for four months, it also moved in a matter of days. Hatt started seeing Sondra for personal healings, long sessions that began with Sondra's setting up an altar to a variety of divine figures and going on to channel their energy into and around Hatt's spirit-body....
In the material world, Sondra is surpassingly gentle, an elfish assemblage of diminutive bones and smooth skin and giant eyes. These days, she believes she's a fairie. She says that a close friend, a high-powered real estate broker herself, and a conservative woman in most respects, is of "angelic decent" with an invisible dragon living in her apartment.
In the early eighties, when she was an English student at Rutgers, Sondra was "goth before there was goth," moping to the Smiths and the Violent Femmes. Later, when she was getting an M.A. in fiction writing at New York University, she had a sideline in modeling. When she graduated from Brooklyn Law near the top of her class in 1992, she molted into tailored suits and conservative hair. Bored by corporate law practice into a state of depression, she left Davis Polk to work as a part-time attorney while studying acting at the Stella Adler school.
Now her favorite color is pink, ... what she calls the color of [unconditional love]. In cold weather she wears a pink puffy coat over a pink sweatshirt emblazoned with a Brooklyn logo, with a pink hat and pink gloves and Nikes with pink swooshes, and blue jeans that are a little too big for her. She often stands too close to people, but nobody seems to mind. Her presence is asexual. Not so much celibate as ethereal.
Still, she assumes an easy, unforced intimacy with her clients. One weekend I join her on a cat-healing house call; once the feline patient, Bowie, is restored to health, Sondra turns to face the cat's owner, Rose, as she lies on her couch. She frames a triangle over Rose's face with her hands. Rose's face collapses into her couch cushions. Sondra's, meanwhile, has undergone an even more curious transformation. For an hour, her chin disappears. Lines normally invisible stretch like deltas from her eyes, and her smooth forehead is as furrowed as rough seas. She raises her triangle hands, the veins pop in her neck, and when she has them fully extended above her head, she blows-foof!
She stands, knees cracking, shakes herself out, and takes a seat on the floor beside me. She bites her lower lip.
"So, you can take your time coming back."
Rose wiggles her toes. We sit in silence.
Rose opens her eyes. She's crying.
"He's with you," Sondra says. Derek? Sai Baba? Jesus?
"I saw him," Rose whispers, finally moving to rub her nose.
"I know."
"It's so hard. To say good-bye. I flew back. To Australia. And, and, I didn't get there in time."
Rose pulls herself up. Sondra moves to a seat beside her, wraps an arm around Rose's shoulders.
"My brother," Rose says. She shudders with tears.
Rose's brother had been sick; she'd flown home to be with him; he'd died before she could get there.
"When I saw him, I didn't want to come out of it," Rose says. "I didn't want to come back. Here."
She looks up at Sondra. "Did . . . did James" - Rose's friend, Sondra's client - "did he tell you about my brother?"
Sondra shakes her head. She doesn't lie. "I didn't know," she says.
Jim Farah, a Corcoran real-estate agent, sits with perfect calm as Sondra squirts holy water - tap, blessed by her, dispensed from a pink plastic spritzer - on the carpet, ceiling, and walls of a Kips Bay apartment he's been trying to sell. It's a one-bedroom in a doorman building, with an open terrace overlooking a dazzling, gold-domed church and the East River, and it's priced very reasonably - $680,000 - but it's not moving. Farah, a sober, dignified man with neat gray hair, a black jacket, and a gray sweater, "baptized Episcopalian," a former retail executive with no supernatural experiences, called Sondra. Now she's standing in the living room, her eyes fluttering and her shoulders twitching as she calls in a full congregation of minor and major gods.
"Jim," I whisper. "Does this - is any of this kind of, I don't know, hard to swallow?"
Farah shakes his head and offers the best defense of New Age I've encountered. "Absolutely not," he says. "To some extent, it's a language of its own." The terms, he says, may be peculiar, but the ideas at hand - that spaces reflect their inhabitants, that faith goes by many names, that all rituals, "true" or "false," cohere around metaphors of our own creation - are perfectly ordinary.
Sondra slumps, hangs like a puppet on strings, straightens, and leaves the apartment. She needs to get some distance, so she can draw a sacred circle around the newly cleansed space. Neither seller nor buyer will consciously budge an inch on the basis of this invisible shield. Farah, like most brokers, won't even mention the procedure. I look at him, hands folded in his lap, waiting for Sondra to return....
Around them, Sondra and Derek have a magic circle that seems to serve, at the least, the psychological needs of their students. And beneath it all, they have the perfect small business model, especially since they continue attracting students and training a corps of healers, who then go on to win new adherents and train more healers.
According to the social critics John Naisbitt and Patricia Aburdene (themselves sort of New Age sociologists), American corporations spend $4 billion a year on New Age consultants. IBM provides employee seminars in the I Ching. On a smaller scale, the Soho branch of Corcoran invited Sondra to address a group of 80 brokers....
One of the rules attending the drawing of the Prema Agni is that the recipient must give at least $7 to a good cause. One day, I told Sondra I'd given my $7 and then some to tsunami relief. Sondra agreed that counted. But the tsunami didn't really register for her as it did for most of the world. "It's already written in the karmic book, the Book of Life," she said.
The "karmic book, the Book of Life" - in a phrase, Sondra assimilates Buddhism, Hinduism, Judaism. But these awful fated events "can be erased," Sondra said, if we'd all just learn "compassion"....